Englewood High School


Class Of 1969
In Memory
Chester W. Huntley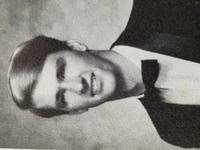 Chester Wilson Hundley, Jr., age 69, passed away on Thursday, March 19, 2020, in Jacksonville. He was born on October 16, 1950, in Jacksonville; the eldest son of Rev. Chester Wilson Hundley, Sr. and Cathryn Owens Hundley.
Chester was preceded in death by his parents, and two brothers, Stephen Wayne Hundley and David Charles Hundley. He is survived by his sister, Kathy (Hundley) Jelinek (husband, John) of Duluth, GA, and a brother, Timothy Glen Hundley, by his nieces, Ashley (Hundley) Kirchaine and Jessica (Jelinek) Morales, and by his nephews, Charles Austin Hundley, David Ryan Hundley, and John Jelinek IV. He is also survived by many extended family members and friends.
Chester was a graduate of Englewood High School in 1969 and attended Florida State College (formerly Florida Junior College). As a teen, he helped his father build Trinity Temple Assembly of God on Hogan Road where he learned about the Bible and God's love for people. Most recently, he attended Peace Presbyterian Church on Southside Boulevard. Although Chester faced many challenges in his life, he is remembered as someone who was friendly, kind and helpful, and he was very interested in others and showed it when he asked them questions about their lives. Chester did his best to live his life according to "The Golden Rule".
Interment, Greenlawn Cemetery, 4300 Beach Blvd.
https://www.legacy.com/obituaries/name/chester-hundley-jr-obituary?pid=195819535