Englewood High School


Class Of 1969
In Memory
Danny Hull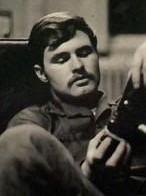 Danny Murray Hull, age 70, passed away on Tuesday August 3, 2021 in Jacksonville. A Jacksonville native, he was born at St. Vincent's Hospital in Riverside on November 30, 1950 to Dana Elijah Hull and Vivian Parnell Hull. Danny attended Englewood High School in the Class of 1969 . After high school, Danny entered the military and served his country proudly as a member of the United States Army. Upon completion of his service, Danny came back to Jacksonville and began a career with the City of Jacksonville as a painter, until his retirement.
Danny enjoyed spending time with his family and friends, telling stories about his time using the Vulcan in the Army, having a cookout, and rooting on the Florida Gators.
Danny was preceded in death by his mother and his father, Dana and Vivian Hull. He is survived by his children Colli, April (Richie), MaryBeth (Chad), & Melissa (Clayton); grandchildren Taylor (Charlotte), Alessia, Austin, Logan, Jacob, Nathaniel, Erin, Annabelle, Morgan & Alexandra; great grandchildren Cameron & Ava; his siblings Wendy, Victoria, Trena, Deborah & Dana.
A memorial service & interment with military honors will be held at a later date in Jacksonville National Cemetery.
In lieu of flowers donations may be made to Jacksonville Humane Society or the charity of one's choice.
https://www.legacy.com/us/obituaries/timesunion/name/danny-hull-obituary?pid=199782052&utm_source=MarketingCloud&utm_medium=email&utm_campaign=ObitSha